Gede Bali Tour Guide And Bali Private Driver
Hi there, welcome to my website!! My name is Gede Sujana, but please just call me Gede.
Bali epica tours is not only a business that are moving on Bali tour service, but it is my excitement in life for dabbling in bali tour. I have been studying and working in the hospitality industry for more than 16 years now. Interacting with people throughout this business and delivering an exceptional experience to the customers have always been my passion in life as tour guide and bali driver.
Before i am moving on Bali tour guide and Bali private driver, i started to study the hospitality industry in 1994 at the Bali Tourism Management at Nusa Dua Bali, or we commonly refer as BPLP Bali, one of the well-known hospitality schools in the island. Graduated among the top students from the schools, i started to work in a 5 star hotel in the Nusa Dua area for 3 years. Then in 1998 i departed to Singapore to 1999, which then brought me to a new venture with NCL Cruise line. The job gave me the opportunity to venture to the other side of the world from North America to Australia.
I have to admit, throughout the 12 years with NCL, as a bartender, i have successfully delivered good experience to the customers, which some of them have become my dear friends up to date. I always think that this hospitality business as bali driver and tour guide is all about creating agreat experience to your customers, make them happy, so in a way, it is a people's business.
My family, my wife and daughter, are the center of my Universe. With similiar background as i am, my wife, Luminita, have always been very supportive in this business of putting smile in people's face through a wonderful holiday experience in Bali tour.
Epica Bali Driver Teams :
All our bali driver is local people with good english that very prompt for your requests, friendly, accommodating and most importantly gave good and honest advice on where you should go to avoid being charged inflated tourist prices, very informative, great bali driver, knows all the great places to visit and patience, have sense of humour made your trip from a normal one to a extraordinary one.
I Gede Sujana
I Komang Suara
I Ketut Suarsana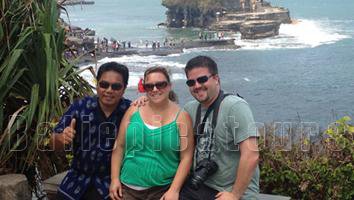 The Most Interesting Attractions In Bali