Epica Bali Tour Service | Bali Tour Guide And Private Driver
Bali Island Tour Service
Epica Bali tour service will organize your activities in bali island by offer holiday tour package with professional Bali private driver and tour guide service to uncover the awesome of this island who have a reputation as being one of beautiful vacation destination in Asia, This island atracts almost 1 million visitor each year from all around the world and is one of more than 1.800 Island of indonesia, Bali is small stretching approximately 140 Km east to west and 80 Km north to south.
Where is home to some of the most exotic hindu temples as main religion in bali, variety of tour activities like horse riding, camel riding, Bali cycling tour, elephant riding, beautiful rice terrace, ancient culture like Tenganan village or Penglipuran village, natural environment and Bali has a beach for world-class surfing and so much to do so much to see, So to witness all these uniqueness, you can join with Bali epica tours as Bali island tour service by choosing Bali tour package and make your trip an unforgettable memory with our friendly, great sense of humour and knowledgeable private driver and tour guide in Bali.
Bali Tour Guide | Bali Private Driver
The first thing you must to know is this is your holiday so you will going where you want to go and when you want to go, and as you know bali is a small island that has many places as well as attractions that appeal to tourists with a hidden location and difficult to reach from public places, then you need private bali driver and guide in Bali to accompany your trip and will give you a precise and accurate explanation of the attractions that you want to know.
Enjoy your experience to discover the real bali with our Bali private tour guide and driver who was born and rised in bali island, so with Bali epica tours will get to know about the spirit of culture, local art, dance, ceremony that we have than others, in addition we are provide Bali car rental.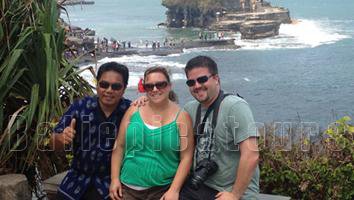 The Most Interesting Attractions In Bali
Testimonial
Zhenhao (Singaporean)
Mr Gede was very prompt with our requests, friendly, accommodating and most importantly gave good and honest advice on where we should go to avoid being charged inflated tourist prices. A good sense of humour, he brought light heartedness to our trip, even though we had screaming and sick kids in the car (he never once complained about the noise and instead was very understanding). Chilled bottled water was available throughout the trip (Gede had a cooler box to store the chilled water in his boot!) - a nice and thoughtful gesture amidst the hot weather. He even went out of the way to help us order delivery dinner when we ran late with our itinerary on one of the days. All in all, an excellent guide and driver!
Michael ruiz (Filipino)
Mr.Gede was a 100% EXCELLENT tour guide and host during our stay in Bali. Communication has never been a problem, as Mr.Gede was always reachable via Whatsapp, promptly responding before, during, and even after our trip for any inquiries that we may have. Bali Epica Tours is very highly recommend as a services provider for your touring needs, 100% satisfaction guaranteed!
Anuj sethi (Indian)
Awesome Guide = Excellent tour Me and my wife took this tour with Mr. Gede. We decided to take a customized tour over pre-planned packaged tour and I am delighted that I made this choice and chose Bali Epica tours. We had just 3 days and Mr. Gede really made the most out of it. He is a friendly guide, knows hospitality and is a genuine person. I highly recommend him! "5 STARS"
Lyndi henning (usa)
Hi i just wanted to send you a note thanking you for the tour. I truly enjoyed it and just want to say if anyone is looking for a knowledgeable tour guide in Bali that you come highly recommended. Thanks for everything! Lyndi
Airport Transfer
Destination
Price ( one way )
Kuta / Legian / Seminyak
USD 10 / car
Canggu / Nusa Dua / Jimbaran / Sanur
USD 20 / car
Candi Dasa / Medewi
USD 50 / car
Ubud / Petitenget / Tanah Lot
USD 30 / car
Lovina / Amed / Tulamben
USD 60 / car